The Duonet & Quadnet intelligent fire alarm systems offer both cost-effective and reliable solutions for a wide variety of fire detection applications. The innovative technology built into the Duonet and Quadnet panels is designed to significantly reduce false alarms. The systems can support up to 200 Multipoint ASD combined detector/sounders on a single loop.
Integrity of the system is maintained by way of a built-in isolator incorporated within every device. System intelligence has been harnessed in such a way that equipment used is very easy to install, commission and maintain.
The system has been designed to high specification and quality standards, and complies with the EN54 – 2 and EN54 – 4 standards and EU directives.
Powerful software gives the capacity of up to 4 loops for the Quadnet and 2 loops for the Duonet panel, making addressable Multipoint ASD detector technology available to customers with systems up to 800 devices.
The panels have been designed using significant customer feedback, to produce a high specification system with many unique features. Its appeal will attract consultants, clients, installers and engineers alike. The standard black high-gloss finish of the panels has been chosen to reflect the panel's state of the art technology and to enhance its surroundings, rather than be hidden away.
The XP95 range of analogue addressable fire detectors is advanced in design, improved in performance and has unique features that benefit the installer and the end user.
The detectors have been carefully researched and developed by the Apollo design team and the range has undergone rigorous testing to ensure that it meets not only European and other standards but also the demands of today's high technology environments.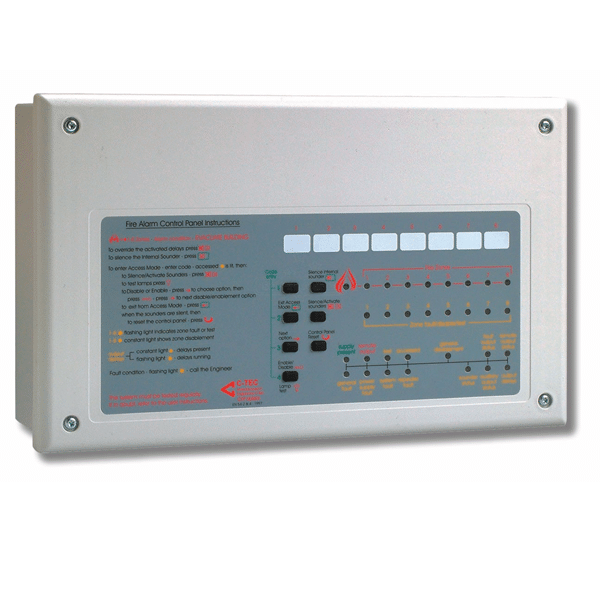 C-Tec the FP 1-14 Zone BS fire panel has been protecting people and property for almost two decades. Like the MFP, it is supplied in a robust metal enclosure with a lift-off lid and heavy-duty base connections to help promote an easy first fix and straightforward maintenance.
The FP's broad compatibility with virtually all known conventional smoke and heat detector ranges – a feature common to all of C-TEC's conventional fire panels – and its ability to interpret a short circuit in any zone(s) as a fire or fault make it particularly useful for retro-installations.
Optional head out monitoring units are also available for systems requiring compliance with BS5839-1.
Morley The ZX5e is an intelligent fire alarm control panel. It has been designed and is constructed around proven and reliable microprocessor technology. This simple approach has produced a modular, scalable fire alarm platform suitable for protecting all types of premises.
The ZX5e control panel supports a total of five industry leading protocols, allowing fire detection devices to be independently selected based on performance or aesthetic appeal. The ZX series control panels seamlessly integrates with Apollo (Xplorer, XP95 & Discovery), Hochiki ESP, Nittan, Morley-IAS and System Sensor detection device protocols.
Designed for maximum flexibility the ZX5e control panel is supported by a complete suite of peripherals and software tools.
Information on the location of fires, faults and system status can easily be displayed or printed in multiple locations. Integration to Voice Evacuation Systems, paging systems and third party control systems is supported through a range of peripheral interface units.
This adaptability, support and intelligence means that the ZX5e is suitable for new projects, system expansions, retrofits and system upgrades in all application areas.
Offices, industrial units, multi-storey buildings, entertainment venues, industrial plants and hospitals are a few of the many applications that can benefit from the features of the ZX5e intelligent multi-protocol fire alarm control panel..
It is the result of decades of fire alarm and detection experience and a research and development involving installers, specifiers, consultants and end users across the world.
MxPro 5 has been designed to offer more power and performance in a user-friendly enclosure. It packs more configuration, display, status and control options into its interface as standard than any other Advanced fire panel, which means less time and expense customising a system with peripherals.
MxPro 5 is also compatible with AlarmCalm, the fire alarm false alarm management solution from Advanced.
Hochiki is distinguished by the experience and expertise of nearly 100 years as one of the world's largest manufacturers and suppliers of industrial fire detection products.
Hochiki Corporation was founded in Tokyo in 1918 with most of the major Japanese insurance companies as founder shareholders.
Hochiki Corporation undertakes design, manufacture, installation and maintenance of fire alarm systems and produces in excess of 3 million units per year. An international market leader in the manufacture of fire protection products Hochiki Corporation also produces fire extinguishing, security and cable television systems.
Moving away from bulk heads and central battery systems, Hochiki offers a completely unique, cost effective and fully compliant emergency lighting system. FIREscape is based around an addressable, emergency lighting control panel with battery back-up and features a